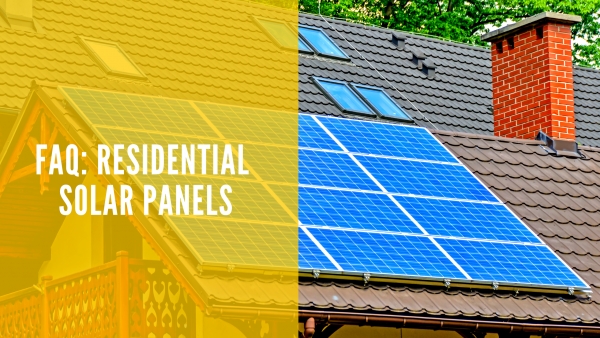 FAQ: Residential Solar Panels
Nowadays, solar panels are not just for companies or power plants. Residential solar panels are becoming more and more popular as the cost of installation continues to go down. Not only do they provide clean energy which benefits the planet, but they also help a lot of households save money in the long run. But how does installing residential solar panels really work?
There's a lot to learn about residential solar panels before you decide to install them. For a start, you can hop on to our article on solar panel facts to get the hang of this eco-friendly technology. And if you want to get in-depth, we've compiled a list of frequently asked questions and their answers so you can better understand what residential solar panels entail and if it's right for you.
How do solar panels work?
In simple terms, a solar panel is an electric or heat pump that produces solar energy directly from the sun's energy. Once collected, it's transferred into the battery of the panel.
While there are two types of solar panels – concentrating solar panels and thin-film solar panels – which makes up the two types of residential solar panels (concentrating solar panels are made up of copper and silicon, while thin-film solar panels are made up of plastic and glass), both are used to generate energy from the sun.
However, the key difference between the two is the size. The bigger, more powerful, more expensive concentrating solar panels usually produce enough electricity to power a power plant.
What does a residential solar panel system do?
You can use your home solar panel system to produce solar energy, convert sunlight to electricity, and/or charge your energy storage batteries, or provide your electricity to your home or business. This way, you can cut down on your electricity bills by saving energy and/or selling your excess power back to the grid.
Why do I need residential solar panels?
Solar panels can do a lot more than just generate power from the sun. They're so much cheaper and efficient, so you can actually buy a bunch of them to put in your backyard and start generating power on your own. In the US, they make an excellent option for homes with larger roofs as they allow for installation on small-to-medium-sized structures. If you want to save money on electric bills in the long run, this is your solution.
What makes a good solar panel?
The most critical feature a solar panel needs to have is the amount of electricity it can generate. But what's also important is the way it can function as a solar panel. It should be lightweight, easy to install, and easy to use.
Do I need to have a roof with southern exposure?
Solar panels for homes are a great choice for people who live in sunny locations. They're perfect if you have a south or west-facing roof because you'll get the most power production. But even if you don't, solar panels can still be installed on your house to help with your energy bill.
What is net metering, and how does it work?
You might be wondering how you would use the solar power generated by your panels and why it's important. Net metering is a term that describes the way energy companies use the power generated by their panels. They pay you for the extra energy that you feed into the grid. If you decide to sell the excess solar power back to the power company, it is possible to get a credit on your electric bill. This way, you can still make money by selling the solar power generated by your panels while you also contribute to the world's clean energy.
Are there any tax incentives for installing residential solar panels?
If you want to save on your electric bill and don't mind impacting the environment, then it might be worth considering installing residential solar panels. This is because you can potentially benefit from several tax incentives for doing so.
You can get tax credits for buying solar panels and purchasing a battery. Also, you can avoid any state or local taxes if you're installing residential solar panels. And don't forget that these types of panels can contribute to your property taxes as well!
Which solar panel companies can I choose from?
Solar panels are made in different sizes, so the choice of solar panel companies depends on how much you want to spend and what type of solar panels you're looking for.
However, we suggest consulting with a contractor so you will be advised on the best installation process. At Sunlight Homes, our goal is to create a better future by encouraging people to turn to solar energy. Our expert advisors understand how a solar roofing system, which maximizes performance, efficiency, and long-term return on investment, can be built to help us save real money, whether it is a residential, solar, or commercial solar system for our clients.
More than that, we are proud to use leading solar panels and products in the industry with the manufacturers we partner with, such as LG Solar and Panasonic Solar.
How much does it cost to install a residential solar panel?
According to the Energy Information Administration, the average cost to install a residential solar panel system is $8,000 to $12,000. This includes the home solar panel installation costs, solar panel storage, and any incentives you qualify for.
If you're looking for a top-quality solar panel system, you should try to budget for $16,000 to $22,000.
Will snow affect solar panels?
Solar panels perform fine in snow, but your roof must be clear of snow so that the panels can receive sunlight. In some places, your house may have an overhang that covers the top of your roof. Under no circumstances should snow accumulate there. In such cases, you will have to clear the snow so that the panels receive sunlight.
To get a better idea of the problem areas on your roof in extreme weather conditions, feel free to check out these articles:
Will solar panels affect the roof?
Absolutely not. A solar panel is not an added element to the roof. It's just another panel installed on the surface. The only effect is that you will be able to see the panel more clearly on the roof.
Can I use solar energy during a power outage?
Many countries have already set up power systems that allow their residents to collect solar energy during a power outage. But, this process is much slower and more inefficient, and it makes the grid unstable. For solar power to be used during a power outage, you'll need to install a separate battery to store the energy.
How does solar energy work?
Solar energy is converted into electricity and then stored as heat for later use. Each day, solar panels produce more electricity than it takes to power the home. The only energy you lose is the heat produced, which is converted into hot water.
How much can I save on electricity with solar panels?
First and foremost, how much money do you expect to save by installing residential solar panels? Obviously, the exact dollar figure will depend on your electricity bill. Read on to this article to know more about how you can save money on your electricity bill with solar panels.
Conclusion
If you're looking for an affordable and quality solar panel installation, you can depend on us to have experienced and skilled crews that will provide you with excellent, professional, and knowledgeable service, starting with initial consultation and inspection through the work's completion and clean-up. Sunlight Homes' crews work hard to ensure the job is done correctly so that home insurance policy and warranties on materials retain their validity.

Sunlight Homes is located at 21610 Lassen St. Suite 1 Chatsworth, CA 91311. We are committed to socially and environmentally progressive home improvements and we believe in using the best products available in the marketplace. Our services include roofing, domestic insulation, texcote painting, heating, and air conditioning, and many more. You can check out the full list of our services here or inquire at (818) 626-8197. You may also schedule an appointment through our website. For any problems or questions, you may reach us at our contact page.
What are you waiting for? Get the residential solar panel you deserve!