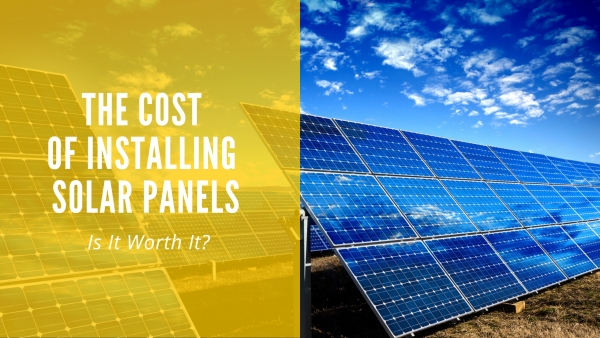 The Cost of Installing Solar Panels: Is It Worth It?
Switching to solar power is a good decision for the environment and your wallet. But is it worth it? Before you make the switch, it's essential to know the cost of installing solar panels.
The upfront cost of installing solar panels can be expensive, but with many government incentives and rebates available, the amount you pay back over time will exceed the initial investment. For example, depending on where you live and how much energy you use, it may take just two years to break even and see your savings grow. This article will teach you everything you need to know about the cost of installing solar power.
Typical cost of installing solar panels
When looking to install solar panels, the first question you should ask yourself is what you want to do with the excess energy produced by the panels. While a portion of the generated electricity will go to your local utility company, a significant portion will stay with you. That means if you install a solar panel system on your home, you can help lower the cost of your electricity. Check out this article to know more about how you can save money on your electric bill with solar panels.
The upfront cost for installing a solar panel system can be expensive. However, if you use the panels for their intended purpose, you'll recoup the costs in just a few years.
What you need to take in mind is that cost of installing solar panels depends on where you live and the size of your home. Depending on the size of your roof, the installation of a solar panel system would vary. According to the National Renewable Energy Laboratory, the average upfront cost of residential solar panel installation is $5,419. However, you need to note that the entire installation includes soft and hard costs that would add more to the price.
For instance, according to Energy Information Administration, the average cost to install a residential solar panel system is $8,000 to $12,000. This price already includes other hard costs such as home solar panel installation and solar panel storage. For additional soft costs tied to this, the Department of Energy has broken them down. These include permit fees, sales tax, transaction costs, among others.
Tax incentives and rebates
Up to a 40% federal tax rebate, you can receive a tax credit of up to $2,500 for installing solar panels, and an additional $1,500 from the state or local government. While there are no official state tax rebates, there are many other rebates and even grants. Local, state, and federal incentives typically apply to residential and small business systems, but all systems should include some level of financing for installation.
Federal tax credits
Saving money through solar power has many benefits, but one of the most important factors is tax savings. Although it's easy to overlook when calculating your savings, tax credits from the federal government can greatly reduce the cost of going solar.
The solar tax credit is currently 30% for most homes and 10% for farmers. This credit is not only important but can be the determining factor on whether going solar is financially feasible for your property. Without a federal credit, you'll need to be sure to take every cost into account, including the cost of installation.
State-level incentives
Most U.S. states offer tax credits or rebates for installing solar panels. Depending on your location, your state may offer grants, sales tax exemptions, and property tax credits. For example, in Hawaii the state provides a 30% property tax credit. These incentives can add up to huge savings, so start planning and figure out how much you're willing to spend to save money in the long run.
If you live in California, you should know that there are no state incentives on solar panels anymore. However, there is still a rebate for installing an energy storage system called the Self-Generation Incentive Program (SGIP). You can claim this rebate together with your California solar tax credits.
Federal incentives
The federal government is also a great resource for helping you pay for solar panels. The Department of Energy offers a 30% federal tax credit for solar energy systems. Businesses can get up to $0.40 per watt, or 4% of the cost, for installing photovoltaic (PV) panels on their property.
Solar payback time
If you live in a state with utility-supplied electricity, your first question is "How much is it going to cost to install solar?" The answer to that question is all over the map. A lot of factors go into determining your payback time.
Many people assume it will cost about the same to install solar panels as it did for their previous utility bill. However, there are a lot of unknowns when it comes to your energy usage and what your current bill looks like.
As a general rule, you'll need to find a company that offers a project-based payment option. With this option, you only pay the company for the panels, not for installation or maintenance. It will help you make the upfront costs of solar look less expensive. Another option is to hire a solar installation company to do the work for you.
If your choice is the latter, then make Sunlight Homes your go-to solar installation company.
About Sunlight Homes
Sunlight Homes is located at 21610 Lassen St. Suite 1 Chatsworth, CA 91311. We are committed to socially and environmentally progressive home improvements, and we believe in using the best products available in the marketplace. Our services include roofing, domestic insulation, texcote painting, heating, and air conditioning, and many more. You can check out the full list of our services here or inquire at (818) 626-8197. You may also schedule an appointment through our website. For any problems or questions, you may reach us at our contact page. Connect with us now and have your solar panel installed in no time!