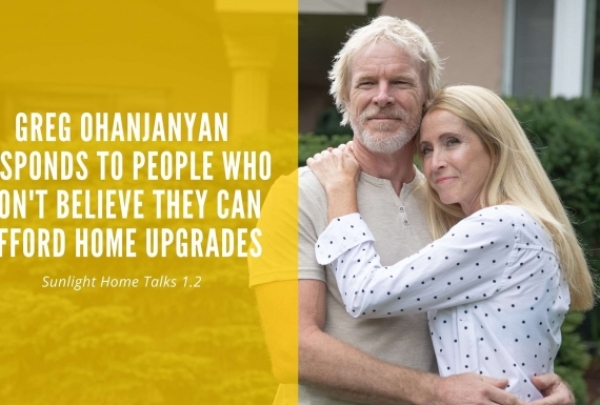 Sunlight Home Talks 1.6 - Greg Ohanjanyan Responds To People Who Don't Believe They Can Afford Home Upgrades
For the last episode of Sunlight Hom Talks, Greg discussed why people are often discouraged to avail of home upgrade services. He also talked about how Sunlight Home has been able to pursue homeowners to start improving their home spaces.
This will be the fifth out of many Sunlight Home Talks. Do not miss the first videocast and the succeeding ones. Sit back, relax, and tune in!
Sunlight Home is a construction company that has been in the industry for over ten years now. Their core services include heating and air conditioning, patio covers, solar panels, vinyl siding, and more. They vow to commit to socially and environmentally progressive homes through the utilization of the best materials available in the market.
"...as human beings, we have fears. Now, everybody wants a house knows that they need to do upgrades eventually. A lot of times people procrastinate, they just don't take that first step which is contacting somebody and just getting educated and getting some information because people are scared that they might get sold and people don't want to put themselves in a situation where they might be sold," Greg said.
At Sunlight Home, we do not pressure people. "I realized that when we educate and inform and empower homeowners with multiple options that and we don't go in there with pressure, they feel great," Greg noted. "At the end of the day, improve the home, increase the value of the house, upgrade the windows or the roof or whatever it may be, and pay off high-interest credit card debt and the homeowners end up having the lower bill with the upgrades than they had before we even got there," Greg added.
Sunlight Homes is located at 21610 Lassen St. Suite 1 Chatsworth, CA 91311. You may inquire about their services at (818) 626-8197 or schedule an appointment through our website. For any problems or questions, you may also send an inquiry via their contact page.