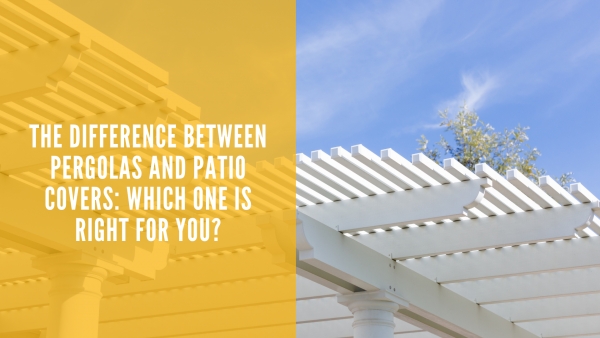 The Difference Between Pergolas and Patio Covers
You may be considering an outdoor living space, like a patio cover, but you're not sure which one to go with. The answer to that question depends on what you're looking for.
In the past, pergolas and patio covers were primarily used to provide a shady place for a patio to escape the hot sun. But now, they're also a great way to extend your living space out to your patio. A pergola is an attractive structure that consists of beams or columns supporting crossbeams, usually with a roof. Patio covers, on the other hand, usually take the form of a roof over an outdoor patio. Although the latter is more common, it's important to be aware of the pros and cons of both.
If you're in the market to buy a cover for your deck or porch and don't know the difference between pergolas and patio covers, this article will help clarify things.
What is a patio cover?
When you hear the word patio cover, you might think of a blanket hanging over the top of your patio. These covers are both stylish and practical and can make your deck or patio a year-round centerpiece. When it gets hot outside, they come in handy for blocking out the sun, creating a comfortable environment for you and your guests. Some patio covers can also function as heaters when it gets cold outside.
A patio cover is a roof that runs parallel to the sides of a deck. It is a roof that is mounted on top of the patio area. It is not free-standing, so it is installed directly on top of the patio.
Patio covers have been around for many years. In fact, the technique to create a patio cover from a simple shade structure is very old. I bet you've seen one and know what it looks like. But don't let that fool you into thinking patio covers are anything more than simple construction.
What is a pergola?
A pergola is a simple, easily assembled, and maintenance-free structure that can be used in many different places. They come in a variety of shapes and sizes and they don't require any cement to be poured on the patio.
The size and shape of the pergola will depend on the area you are looking to cover. A standard 5-foot diameter pergola covers a decent portion of a deck. You can find them at any big box store. The installation is relatively easy, and they are made out of weather-resistant materials.
If you are looking to cover your entire deck, consider installing a metal pergola. A pergola, like a gazebo, is more of a focal point than anything else. It can be built so that it sits on a deck or patio. If done like so, you can use it for outdoor dining and hanging out with friends.
Difference between pergolas and patio covers
Truth be told: pergolas are a bit harder to explain and describe. They're a bunch of quite complicated structures. What you need to know though is they're covered roofs attached to walls and they usually have trees that you can still see through from your table and chairs. Patio covers, on the other hand, cover just the outside of your deck or patio. They look like walls and can be opened or closed with a quick touch.
Pergolas are much taller and have additional sides. For them, the roof rises about 18" to 35", depending on the size of the pergola. Most pergolas have at least two posts with cross-bracing to hold up the roof. They are made of wood, plywood or stone. Meanwhile, patio covers are much smaller, with roofs ranging from 10-25", but there are no sides on the covers, so they are much easier to install.
Are pergolas better than patio covers?
Pergolas are wooden structures that stand out in a landscape as a large structure, or element, of a garden. These can be linked together to form an expansive area.
They are a good solution for creating a garden that's particularly attractive. They're ideal for those who want to include a variety of elements in their outdoor spaces. A pergola's attractive size makes it a great option for a large garden that's particularly difficult to maintain.
Pergolas are also ideal for anyone who's looking to create an inviting, open-air space that people will want to come and enjoy. It can provide a stylish focal point and an indoor-outdoor living space that goes well with the home's exterior design.
Which one should you choose?
Whether you decide to go with a patio cover or a pergola, both outdoor living options have several benefits. Patio covers offer shields from the rain, but they can become cluttered with moss and dead leaves.
On the other hand, pergolas are primarily made of metal and come with more rustic-style furniture. In addition, they offer a place to hang pool or patio chairs that you'll only need to take down once every couple of years, and a more appealing design,
Pergolas are usually meant for decks and porches. They are a lightweight cover made from wood, metal or aluminum that can be placed on an elevated surface. They are normally used with outdoor living areas that are not attached to the house. So, if you have this type of deck or outdoor space in your home, you might consider getting a pergola instead.
Furthermore, some people do not use a pergola as a permanent structure, but just as a cover while enjoying the outdoors. This type of patio cover can be used for entertainment areas in the backyard.
Patio covers by Sunlight Homes
Was this article helpful in explaining the difference between pergolas and patio covers? If it helped you decide which one to get for your patio or deck, then the next step is looking for a contractor that could build it for you.
Sunlight Homes' wide selection of "low to no" maintenance patio covers will take care of your exterior needs, whether you need sunshade, party rooms, or vehicle security. We will make sure that you can have an attractive and durable patio cover. Lastly, our patio covers may be built explicitly for fans and lights in the ceiling to match your outdoor space.
If you're interested, you can request a quote here.
About Sunlight Homes
Sunlight Homes is located at 21610 Lassen St. Suite 1 Chatsworth, CA 91311. We are committed to socially and environmentally progressive home improvements. We believe in using the best products available in the marketplace. Our services include roofing, domestic insulation, texcote painting, heating, and air conditioning, and many more. You can check out the full list of our services here or inquire at (818) 626-8197 or schedule an appointment through our website. For any problems or questions, you may also reach us at our contact page.