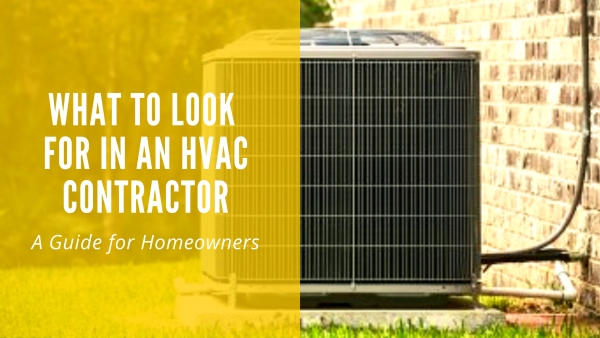 What to Look for in an HVAC Contractor: A Guide for Homeowners
Before hiring heating, ventilation, and air conditioning (HVAC) provider, you should do some research. Since you want the project done well and at an affordable cost, you'll need a reliable contractor. With an HVAC system in your house, you should also take into account any particular demands or issues that may arise. But before selecting a provider, ask yourself what to look for in an HVAC contractor.
After doing that, then the next step is to identify your needs. What size system do you need? What type of equipment do you want (split, mini-split, or packaged)? Do you want ductless heating and cooling? How big is your house? To assist you select the finest provider for your requirements, here are some things on what to look for in an HVAC contractor.
Understanding HVAC systems
Before proceeding to hire an HVAC contractor, it's crucial that you understand how HVAC systems work. After all, it would influence which HVAC provider you will end up choosing.
Conventional air cooling units, or condensers, are used in certain HVAC systems. Others use equipment known as a heat pump to keep cool. You may use either one to transport warm air from inside your house to the outdoors. When this happens, the temperature in your home is lowered. It is important to note that most homeowners have a common misconception that air conditioning really cools the room by drawing in warm air from outside when it is the other way around.
If you want to heat your home, you'll need to use a heat pump, which does the opposite of what a condenser does—it pulls in warmer air from outside and moves it indoors. This is the main difference between the two. If you have a condenser, you'll have to depend solely on your furnace for warmth.
In addition, with an HVAC system, there are plenty of other components to consider such as exhaust systems, transformers, high-performance filters, and even electrical grounding systems. By learning about these, you'll be better equipped to choose a contractor.
What to Look for in an HVAC Contractor
1. The Contractor's License
It is essential that a licensed HVAC contractor be educated by experts. In addition, they must keep their license by passing regular examinations. As a result, if a contractor cannot provide documentation of their license or training, it should raise suspicions.
More than that, a reputable HVAC contractor will be able to show that they have qualified personnel to do the job. They must be trustworthy, kind, and well-trained as this helps the homeowners to trust the HVAC provider.
2. The Contractor's Experience and Credentials
HVAC contractors should have a lot of expertise in order to execute a decent job. HVAC contractors need to have a lot of expertise. It is necessary for technicians to demonstrate that they are familiar with how HVAC systems work in order to provide effective solutions. As a result, you need to seek out an established professional with relevant expertise. The American Society of Heating, Refrigerating, and Air Conditioning Engineers (ASHRAE) can help you find HVAC contractors in your region. You'll be able to locate a list of contractors in your region. Make sure you get in touch with the contractor after you discover one. Request the qualifications of the contractor's employees and consider the contractor's credentials and training certificates as well.
3. The Contractor's Reputation and Reviews
If the company you choose does good work, it is very likely to gain a reputation. If it has a good track record, you can trust that it's a reliable provider. So, a review of its reputation and reviews is another indicator that a company is good for hiring.
If you look at professional reviews and reviews from clients, you can learn about the company's customer service. The review should be from a previous client who used the company for a project. With a professional, you can also learn about the company's work.
If you want to ensure that your heating, ventilation, and air conditioning system will survive for a long time, you should choose a professional that specializes in these systems. That way, you'll be able to obtain the greatest possible service at a reasonable price. In the end, it's in everyone's best interest to employ a seasoned and competent expert.
With this advice on what to look for in an HVAC contractor, you should now be able to locate the finest HVAC contractor and have a stress-free experience.
Choose Sunlight Homes as your HVAC contractor
Prepare for the summer heat and winter cold by hiring Sunlight Homes as your HVAC contractor. Sunlight Homes aims to improve the energy efficiency of your house in every way possible. Our Heating & Air Conditioning service is one of the largest innovative house comfort systems manufacturers – one that is constantly recognized by leading consumer quality and value – in continuous response to calls for greater efficiency, dependability, and versatility.
About Sunlight Homes
Sunlight Homes is located at 21610 Lassen St. Suite 1 Chatsworth, CA 91311. We are committed to socially and environmentally progressive home improvements, and we believe in using the best products available in the marketplace. Our services include roofing, domestic insulation, texcote painting, heating, and air conditioning, and many more. You can inquire at (818) 626-8197 or schedule an appointment through our website. For any problems or questions, you may reach us at our contact page. Connect with us now and have your HVAC system installed in no time!