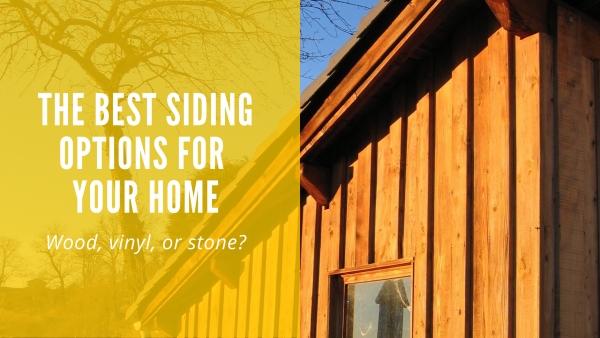 The Best Siding Options for Your Home: Wood, Vinyl, or Stone?
A home is more than just its walls. It is your castle and financial investment. So naturally, you want to keep it as beautiful as possible. One way to bump up the look of your house is to have sidings installed. To help you, we're prepared a list of the best siding options for your home.
There are many different materials that can be used for siding. Vinyl, wood, and stone are just some of the options and each material has its own pros and cons. To help you decide which siding to install, this article will discuss the benefits and drawbacks of each material. You'll learn about installation costs, maintenance needs, durability, and how they look on your home - so you can choose the right material for your specific needs.
1. Wood Siding
What is wood siding?
Wood siding (just like the name suggests) is a protective material made of natural wood attached to the exterior side of the house wall. Natural wood siding is a common siding choice in the United States and Canada. Due to its endless adaptability and classic design, it is a highly sought-after and aesthetically pleasing siding choice. Some newer options in the market include cedar, cypress, pine, redwood, and even engineered imitation wood, all of which come in a variety of colors and textures.
Installation costs of wood siding
Wood siding is a popular choice for homeowners since it is easy to install on their own. Even if you just have rudimentary carpentry abilities, it's simple to work with wood. Additionally, broken components may be readily removed and replaced, saving you money on future repairs. But what if you don't have the basic carpentry skills to work with it? You'd need a professional installer to do the job for you.
The average price per square foot to install natural wood siding ranges from $6 to $12. A 1,500-square-foot house would cost about $13,500 for a wood siding project that costs $9 per square foot nationwide. Depending on the kind of wood, the price of wood siding varies greatly. Clapboard-type wood siding, for example, may cost between $6 and $10 per square foot, while cedar shakes can be as much as $12 per square foot. The total cost of siding replacement varies depending on your home's size and local labor rates.
Durability
Wood siding has a long life expectancy due to its density and dimensional stability. It's possible to get home siding made of wood that will last for many decades. So, if you maintain your home siding once every five years, you may quadruple its lifespan.
More than that, the price of your wood siding and its long-term durability go hand in hand. For example, the innate resistance to the decay of cedar makes it a more costly siding alternative. Redwood on the west coast and cypress wood in the southeast and gulf coast are two other prominent decay-resistant timbers in the locations where they are produced.
One big threat to wood siding is probably insects, which weakens the whole block over time. If one area of the siding is infested, it may eventually eradicate the whole structure. As preventive maintenance, you should apply insecticide to your paint and polish on a regular basis.
2. Vinyl Siding
What is vinyl siding?
Vinyl siding is a plastic, modern alternative siding to the traditional wood clapboard. It's also good for waterproofing your home and perfect for those of you who want to stay away from aluminum or fiber cement.
Unlike wood siding, vinyl is resistant to bugs, mold, extreme temperature changes, and other elements. It is also relatively maintenance-free. Usually, you'll only have to complete maintenance on the siding after a storm or another accident.
Vinyl siding is inexpensive and easy to install. It requires no painting or staining. Installation can be done in about 10-15 minutes. The vinyl is waterproof and resistant to cracking. It's also fairly long-lasting and less likely to wear out than other siding materials.
Installation costs of vinyl siding
You want your siding to last a long time. The more you spend on the material, the longer it will be around. So, you have to decide how much you're willing to spend.
Vinyl is by far the cheapest siding material. On average, vinyl siding installation costs vary from $450 to $1000. How much you pay per square foot depends on your budget. You can expect to pay between $300 to $500. So, this might be one of the best siding options for your home if you're on a budget but still want something durable.
However, there is a trade-off to consider: vinyl siding is quite difficult to install, it can become damaged and peeled over time, and repairing it can be challenging.
Durability
There is a lifetime guarantee on vinyl siding from the manufacturer, and future owners are covered for a prorated amount of time (usually at least 50 years). This may seem to be a large window, but how long it lasts is dependent on a number of factors. Weather, location, and other factors all have an impact on how long something lasts.
Extreme weather conditions are a threat to vinyl siding. It may become brittle and fracture when it's cold outdoors and pliable or even melt when exposed to high temperatures. Aside from that, vinyl siding is also not very eco-friendly due to the fact that it is constructed of plastic.
3. Stone Siding
What is stone veneer siding?
Outside as well as inside of a house, stone siding serves as a beautiful and protective coating for the walls. Homes with stone siding cost a little more than those with other types of siding. Stone siding used to be made almost exclusively from actual stone. Slabs of flagstone may be used for this finish if it didn't need cutting. However, as the popularity of stone siding rose, this led various firms to produce natural stone siding from quarried stone or fieldstone that was cut to a specified thickness.
Installation cost of stone siding
Stone veneer is the most expensive kind of siding when compared to the others, that is why not all homeowners go after this type of siding. A square foot of vinyl can cost you anything from $3 to $8, while a stone veneer would set you back anywhere from $36 to $42. The average cost of a stone veneer siding job is $100,000.
Durability
Stone dwellings have long been associated with a feeling of permanence and long-term durability because of its natural resistance to rain and inability to decay when exposed to the weather. Furthermore, it's a green construction material that's easy on the environment. Unlike cement and plastics, real stone siding may be sustainably obtained. Too, because stone is so plentiful, it's regarded as a reliable supplier of construction materials.
However, there are still some nuances that come with installing stone siding for your home. Some of it includes moist build-up (which if not taken care of right away will lead to molds), and leaks in windows as stone siding installation requires to leave a gap around them.
Conclusion
As previously mentioned, there are many best siding options for your home and each of them is made from a variety of materials. These materials have their own advantages and disadvantages. Before deciding which one to go with, you need to weigh out your options and consider your budget.
However, if you've decided to go with vinyl siding, make Sunlight Homes your siding contractor. Our vinyl siding service can help you save up to 21% on your energy bills-freeing up money for something else and limit greenhouse gas emissions and pollution.
About Sunlight Homes
Sunlight Homes is located at 21610 Lassen St. Suite 1 Chatsworth, CA 91311. We are committed to socially and environmentally progressive home improvements, and we believe in using the best products available in the marketplace. Our services include roofing, domestic insulation, texcote painting, heating, and air conditioning, and many more. You can inquire at (818) 626-8197 or schedule an appointment through our website. For any problems or questions, you may reach us at our contact page.