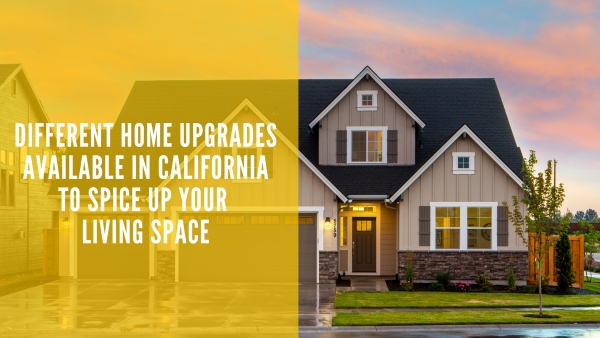 Different Home Upgrades in California to Spice Up Your Living Space
Your home is your safe haven. It's where you spend the majority of your day (or the entire day considering how the COVID-19 pandemic has rendered us to be locked safely in our homes). So, you must keep your space clean, comfortable, and safe.
Whether it's a humble abode or a luxurious space, you can upgrade it to be your paradise. So if you're on the west coast and looking to spice up your living spaces, there are different home upgrades available in California. Keep reading to find out more.
What are the different home upgrades available in California?
In 2018, the construction for 876,000 single-family houses in the US went underway. This number is expected to rise up to over a million in 2022. Generally, home construction is the process of building a house or a home (if you prefer the warmer term). Within this process are aspects of building or upgrading different parts of the house.
Roofing - the process of constructing, repairing, or replacing a roof. It is designed to help home and building owners maintain their roof or replace when needed. Some of the signs that you need a roofing service include: split or blistered shingles, leaking, exposed nails, rusty metals, and cracked base or framework. Roofing service companies, like Sunlight Homes, can help you with these problems.
Sunlight Homes installs new roofs using composite shingles in your homes in California. We also carry out maintenance works on existing roofs using the same materials. Our California experts have the skills to complete the job you need, from early retirement to cleaning. Rebuilding the foundation that deteriorated and getting replacements for the underlay, our teams work together to install your new roof, or we can replace your old roof, always of a higher quality than before.
Heating ventilation and air conditioning (HVAC) - this service lets contractors install heating, cooling, and air ventilation systems for redistribution, commercial, and industrial spaces. Its main goal is to provide comfort indoors during dry summers and cold winters.
Sunlight Homes strives not only to embellish your home but to boost the energy quality of your home in all its aspects. Our heating & air conditioning is one of the largest innovative house comfort systems manufacturers – constantly recognized by leading consumer quality and value – in continuous response to calls for greater efficiency, dependability, and versatility.
Solar panel installation - it is the most famous form of new electricity generation in the world. The primary purpose of a solar panel is to convert sunlight into electricity. As such, it is an excellent way to save some of your hard-earned money while generating power for your home.
Californian expert advisors of Sunlight Homes understand how a solar roofing system can be built which maximizes performance , efficiency and long term return on investment and helps us to save real money whether it is a residential, solar or commercial solar system for our clients. We are proud to use leading solar panels and products in the industry, but we ultimately know that we are just as good as our people – and luckily our team is among the best.
Patio covers - keep their patio space dry, cool in the summer, and protected from the snow and rain in the winter. There are different types of patio covers you can choose from. And before installing one, there are some things you need to know about.
Sunlight Homes provides a wide selection of "low to no" maintenance coverings that take care of your exterior needs for, whether you need sunshade, party rooms, or vehicle security. Attractive, flexible, and robust are our patio coverings and carports. Home snaps tightly with insulated roof panels, which render a sturdy structural roof and a weatherproof shield that protects your patio or vehicle against the elements. Our patio covers may be built explicitly for fans and lights in the ceiling to match your outdoor space.
Insulation - a crucial barrier to heat flow that keeps your home warm in winter and cool in summer. With insulation, you are rest-assured that your home is comfortable all year-round.
Domestic insulation is an important consideration to minimize utility costs, reduce energy consumption, and make your home more comfortable. A well-insulated house will prevent external temperatures from functioning against your heating and cooling system as it reduces the heat transfer between the interior and the exterior of your building. That means that in winter, the heater runs more, and in summer, it runs less.
By sufficiently isolating your house and reducing harmful air leakage through your building, you can save up to 20% of heating and cooling costs or up to 10% on overall energy usage. Through conducting a domestic energy audit, Sunlight Homes will help detect air leakings. We would help if you separated your home from the roof of its base to maximize energy production. Our California experts help you find the best insulation for your home with over 10 years of experience.
Home Upgrades with Sunlight Homes
Located at 21610 Lassen St. Suite 1 Chatsworth, CA 91311, Sunlight Homes is committed to socially and environmentally progressive home improvements. We believe in using the best products available in the marketplace. You can check out the full list of our services here or inquire at (818) 626-8197 or schedule an appointment through our website. You may also reach us at our contact page to know more about the different home upgrades available in California. Connect with us now and have your living space upgraded for comfort and safety!