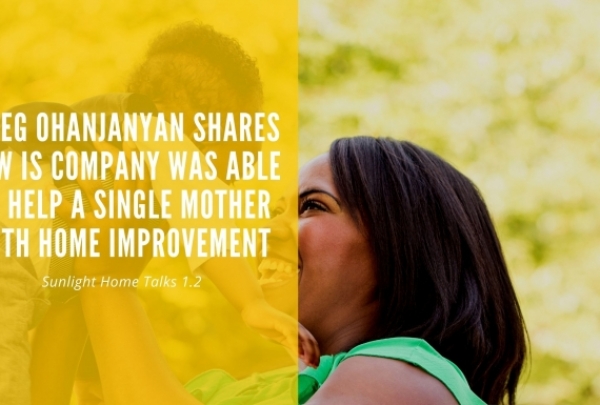 Sunlight Home Talks 1.2 - Greg Ohanjanyan Shares How Is Company Was Able To Help A Single Mother With Home Improvement
In episode two of Sunlight Home Talks, Jack sits down again with the CEO of Sunlight Home, Greg Ohanjanyan, with the most touching story they had ever worked on. This time, it was a story of a single mother who wants her home to be beautified to be able to enjoy her retirement years.
Sunlight Home is a construction company that has been in the industry for over ten years now. Their core services include heating and air conditioning, patio covers, solar panels, vinyl siding, and more. They vow to commit to socially and environmentally progressive homes through the utilization of the best materials available in the market.
This will be the second out of many Sunlight Home Talks. Do not miss the first videocast and the succeeding ones. Sit back, relax, and tune in!
A few years back, Greg had a client that wants a home improvement in her Los Angeles home. She was a school teacher at LA District School and just got retired. One of her ways to enjoy her retirement years was to do renovations for her home. As Jack said, our home is our castle.
"But when the time came to get her approval for financing, she was denied because her credit was not so well. She had allowed her son and daughter to use her credit for credit cards and they make the payments…" However, the retired school teacher was disapproved of financing options.
It was a good thing that there was an existing law in Los Angeles that allows financing options for energy-efficient home improvements. "We ran up to that program and we were able to get her approved and we did 70,000 dollars worth of work on her house," Greg said.
Sunlight Homes were able to do a major improvement in her house. "To see the joy, especially when she got approved, after she was denied, to be able to do this for a woman who served for so many years and set her on a very little affordable payment plan, was just amazing. Those are the kinds of things that fuel us, that we remember, those stories," Greg added.

Sunlight Homes is located at 21610 Lassen St. Suite 1 Chatsworth, CA 91311. You may inquire about their services at (818) 626-8197 or schedule an appointment through our website. For any problems or questions, you may also send an inquiry via their contact page.