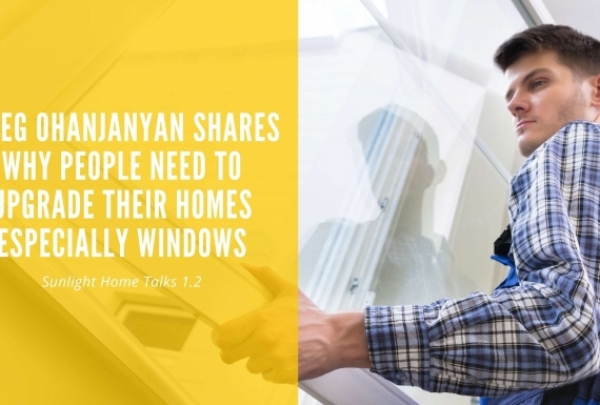 Sunlight Home Talks 1.3 - Greg Ohanjanyan Shares Why People Need To Upgrade Their Homes Especially Windows
In episode three of Sunlight Home Talks, Greg discussed the importance of upgrading windows. Sit back, tune in, and listen to why windows are an essential part of home improvements.
Sunlight Home is a construction company that has been in the industry for over ten years now. Their core services include heating and air conditioning, patio covers, solar panels, vinyl siding, and more. They vow to commit to socially and environmentally progressive homes through the utilization of the best materials available in the market.
This will be the third out of many Sunlight Home Talks. Do not miss the first videocast and the succeeding ones. Sit back, relax, and tune in!
On a personal level when Greg moved into this particular neighborhood, it was not the safest place for his wife and children. Since security was his primary concern, he made a way by starting with the windows. "First thing that I did was replaced all the windows and the sliding doors and patio door before I moved the wife and the kids in there just for my peace of mind," Greg said. Now, even robbers cannot get inside. The windows were made of some material that prevents them from breaking.
Besides security, factors like beautification, value, energy-efficiency, and noise reduction. "But apart from security, you go from an old outdated window and then you get a nice, new clean-look, it makes the house really pop, it beautifies the house."
Sunlight Home offers windows that are energy efficient saving electricity by 50% and noise reduction by 90%. What is more interesting is that you automatically get a 50-year warranty when you avail of their services!
"The peace of mind go with a 50-year warranty so what happens to the windows whether the glass might break, if the locks stopped working, it does not roll smoothly which these are very extremely things that happen but if any of that was to happen, you are covered for 50 years of labor and material. "
Sunlight Homes is located at 21610 Lassen St. Suite 1 Chatsworth, CA 91311. You may inquire about their services at (818) 626-8197 or schedule an appointment through our website. For any problems or questions, you may also send an inquiry via their contact page.