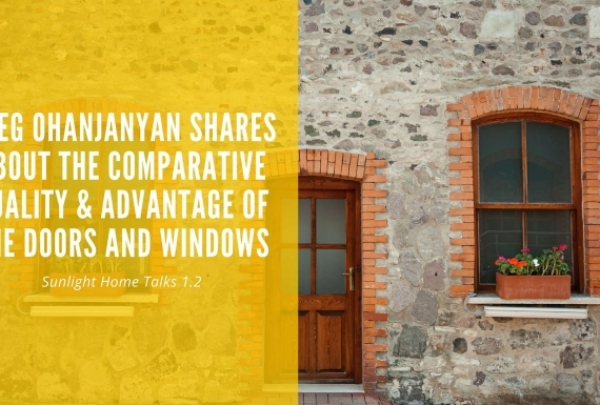 Sunlight Home Talks 1.5 - Greg Ohanjanyan The Comparative Quality & Advantage of the Doors and Windows
For the second to the last episode of Sunlight Home Talks, Jack asks Greg about his business' advantage when it comes to doors and windows. In this videocast, learn why Sunlight Homes is one step ahead.
Sunlight Home is a construction company that has been in the industry for over ten years now. Their core services include heating and air conditioning, patio covers, solar panels, vinyl siding, and more. They vow to commit to socially and environmentally progressive homes through the utilization of the best materials available in the market.
This will be the fifth out of many Sunlight Home Talks. Do not miss the first videocast and the succeeding ones. Sit back, relax, and tune in!
Greg has been in the construction industry for over 10 years now. He is skilled, experienced, and familiar with the products used. "People buy windows all the time and most people, don't really know the difference between a double-paint window. My goal is to offer the best window that we could get our hands on which I believe is the Anlin product which is a local manufacturer in California. We want to offer a phenomenal product for a mediocre price. That's what we do in all of our products," Greg said. Sunlight Home offers the highest quality of brands but in the middle price.
If you want to avail of their services, you should be aware of how they operate now! Since the pandemic is still on, you can reach Sunlight Home virtually anywhere. They can message you, call you, or even hop on a Zoom call! Greg is very much aware of the crisis so he and his team would not want to take the risk of getting the virus.
Sunlight Homes is located at 21610 Lassen St. Suite 1 Chatsworth, CA 91311. You may inquire about their services at (818) 626-8197 or schedule an appointment through our website. For any problems or questions, you may also send an inquiry via their contact page.